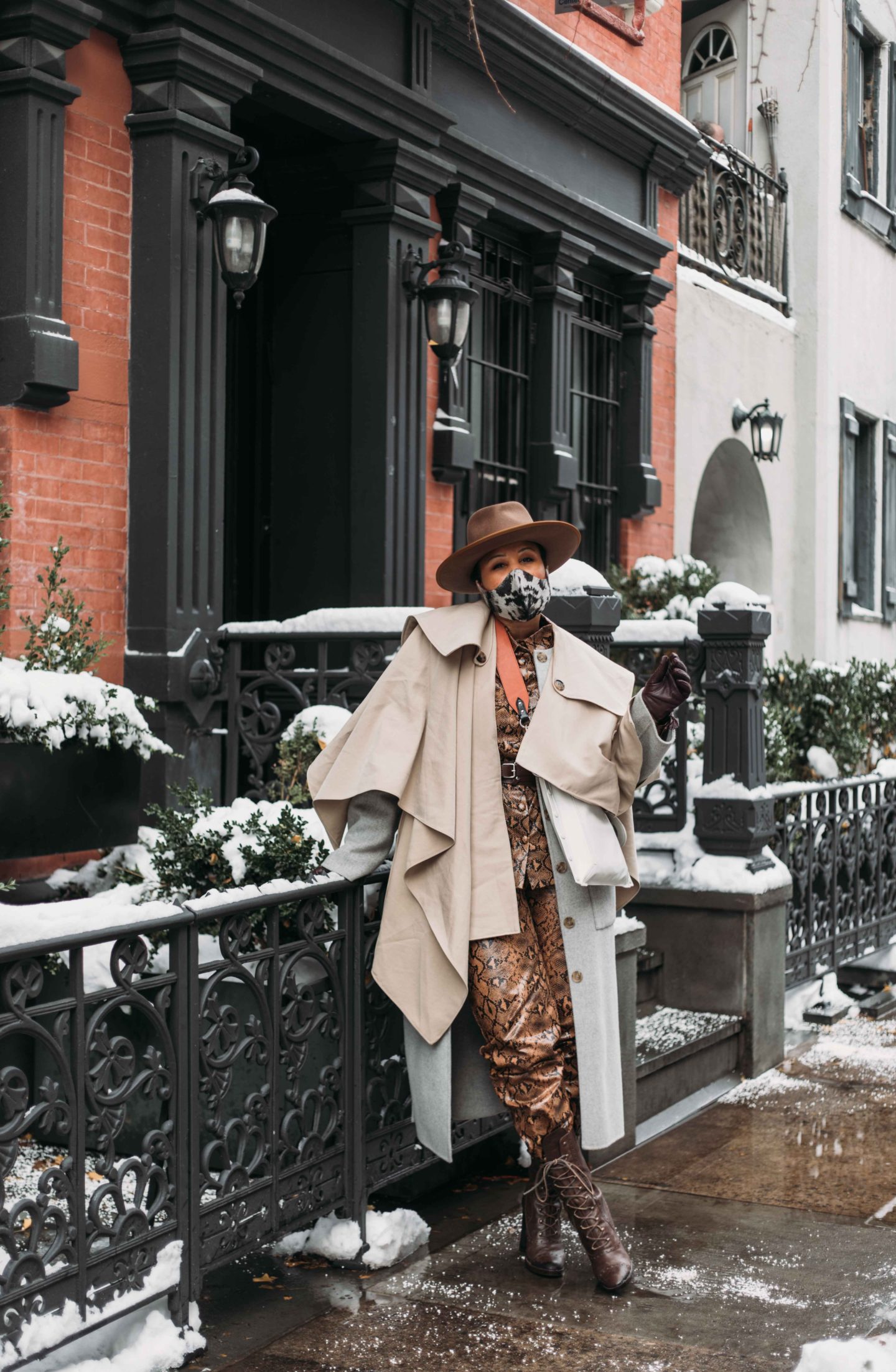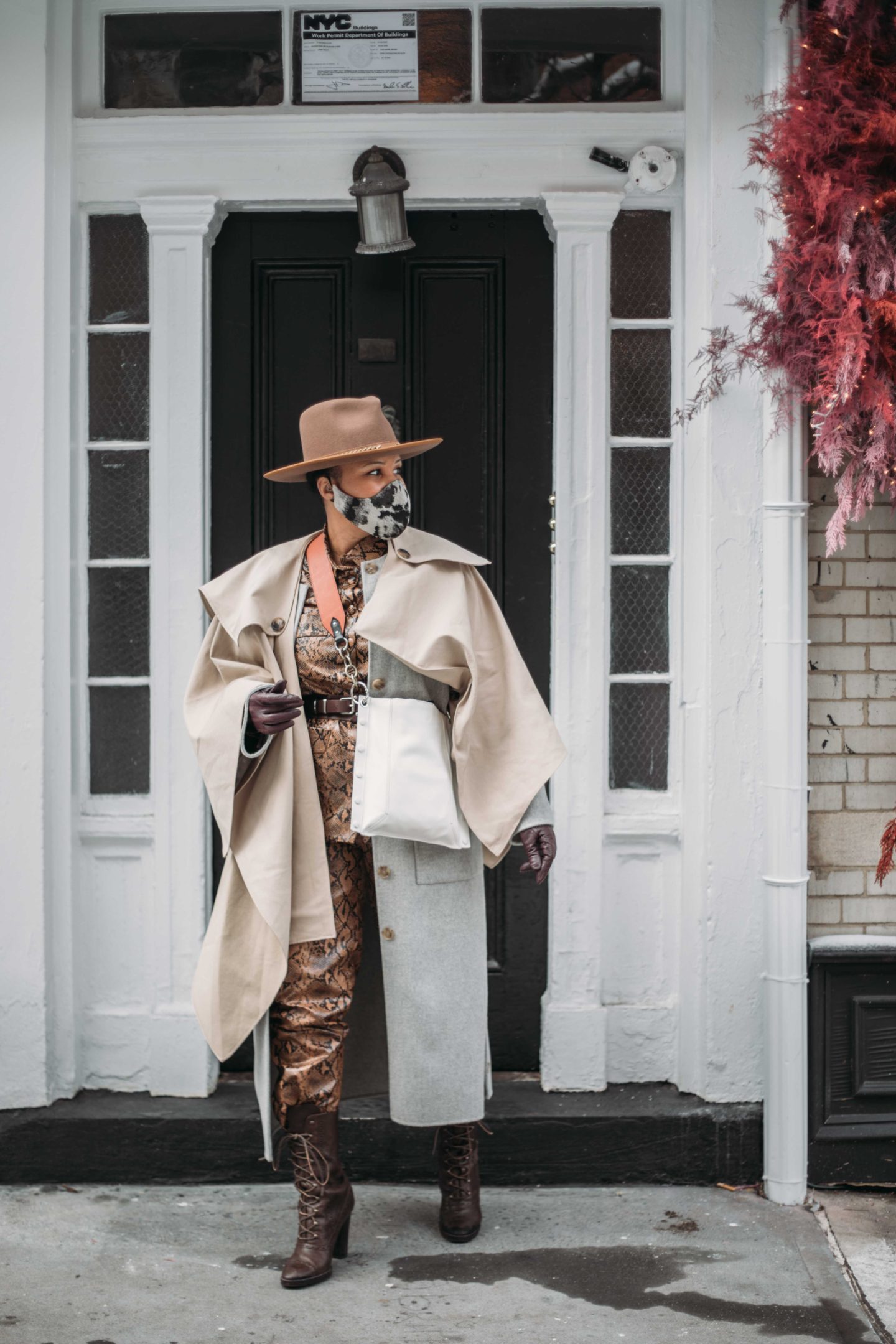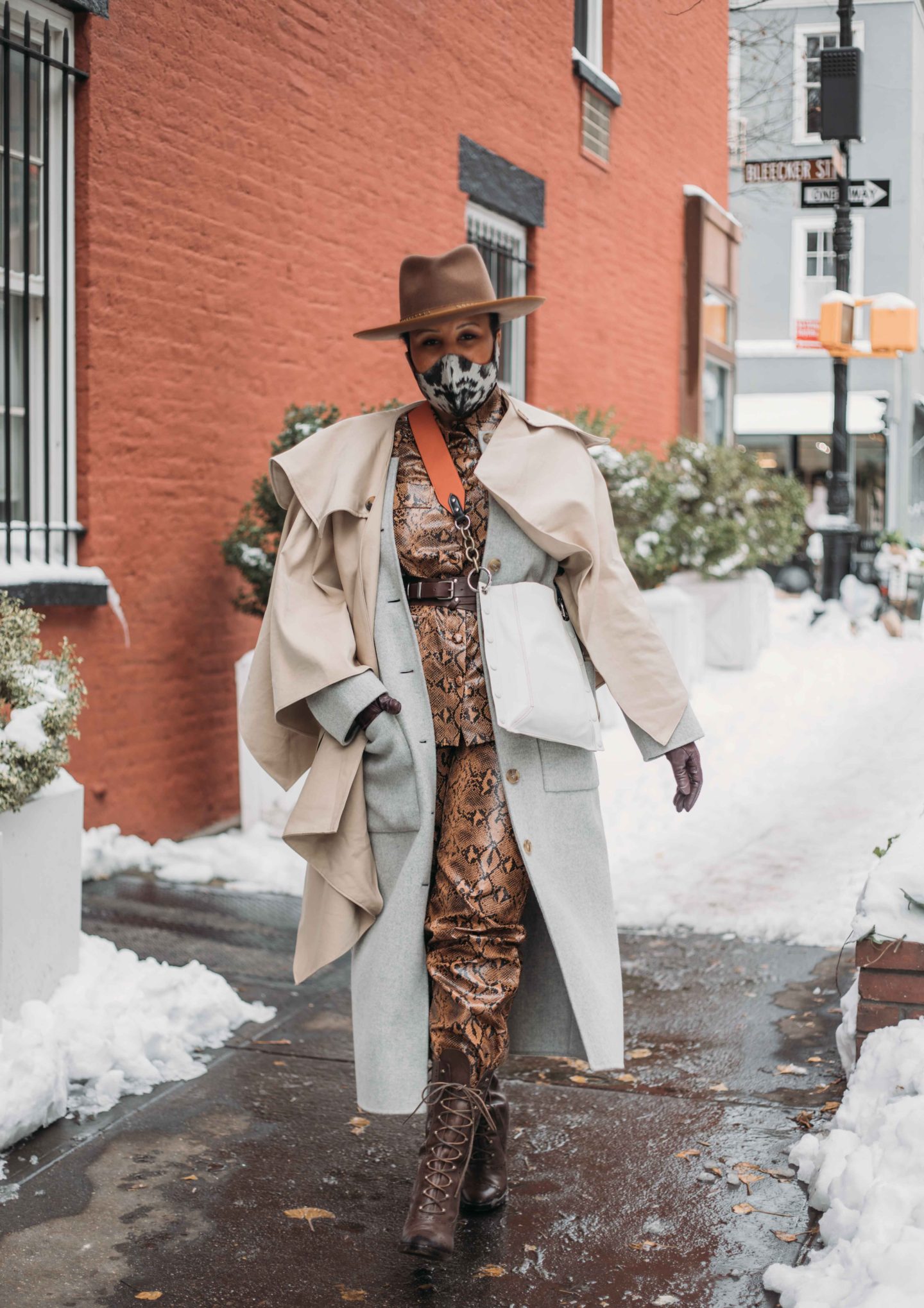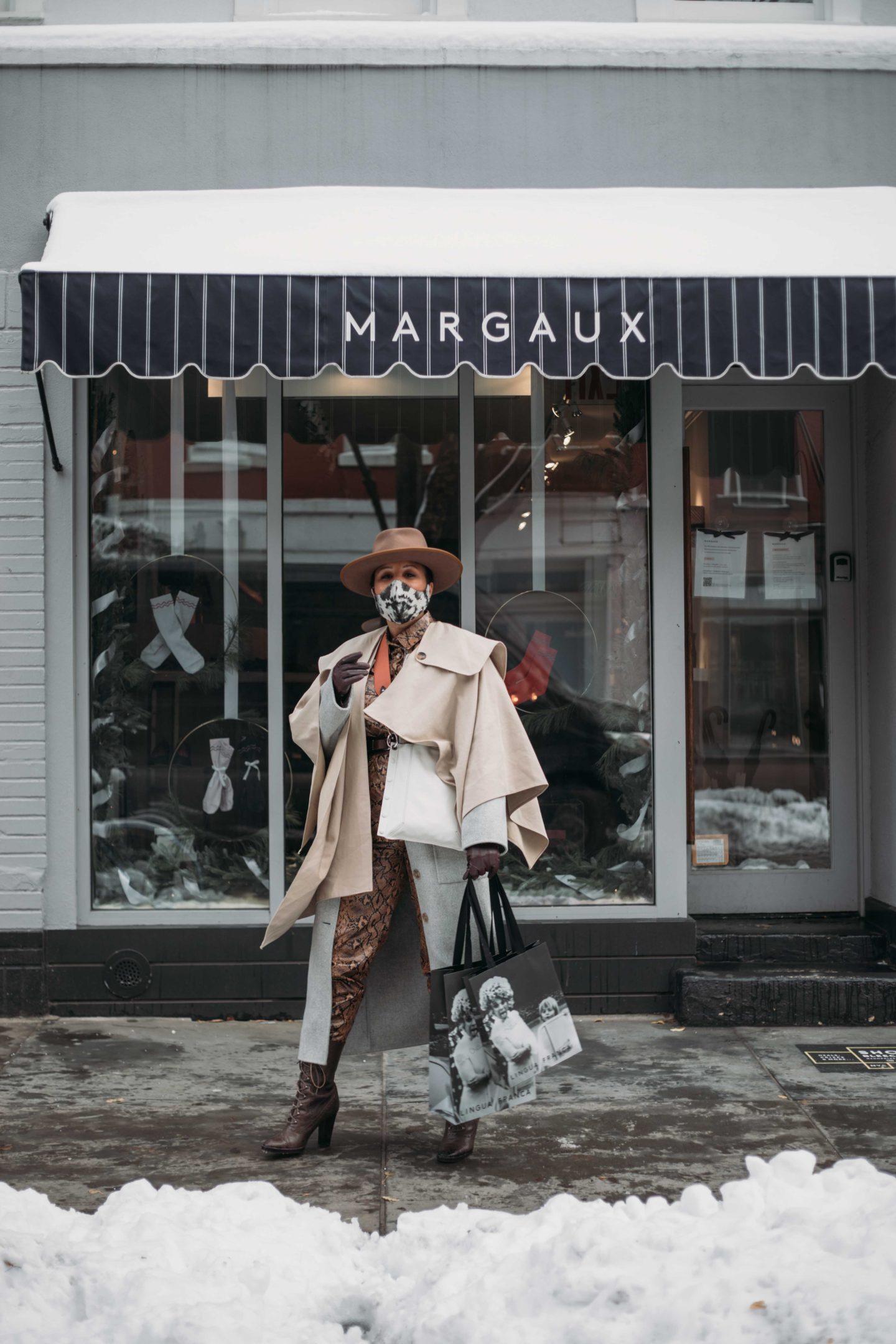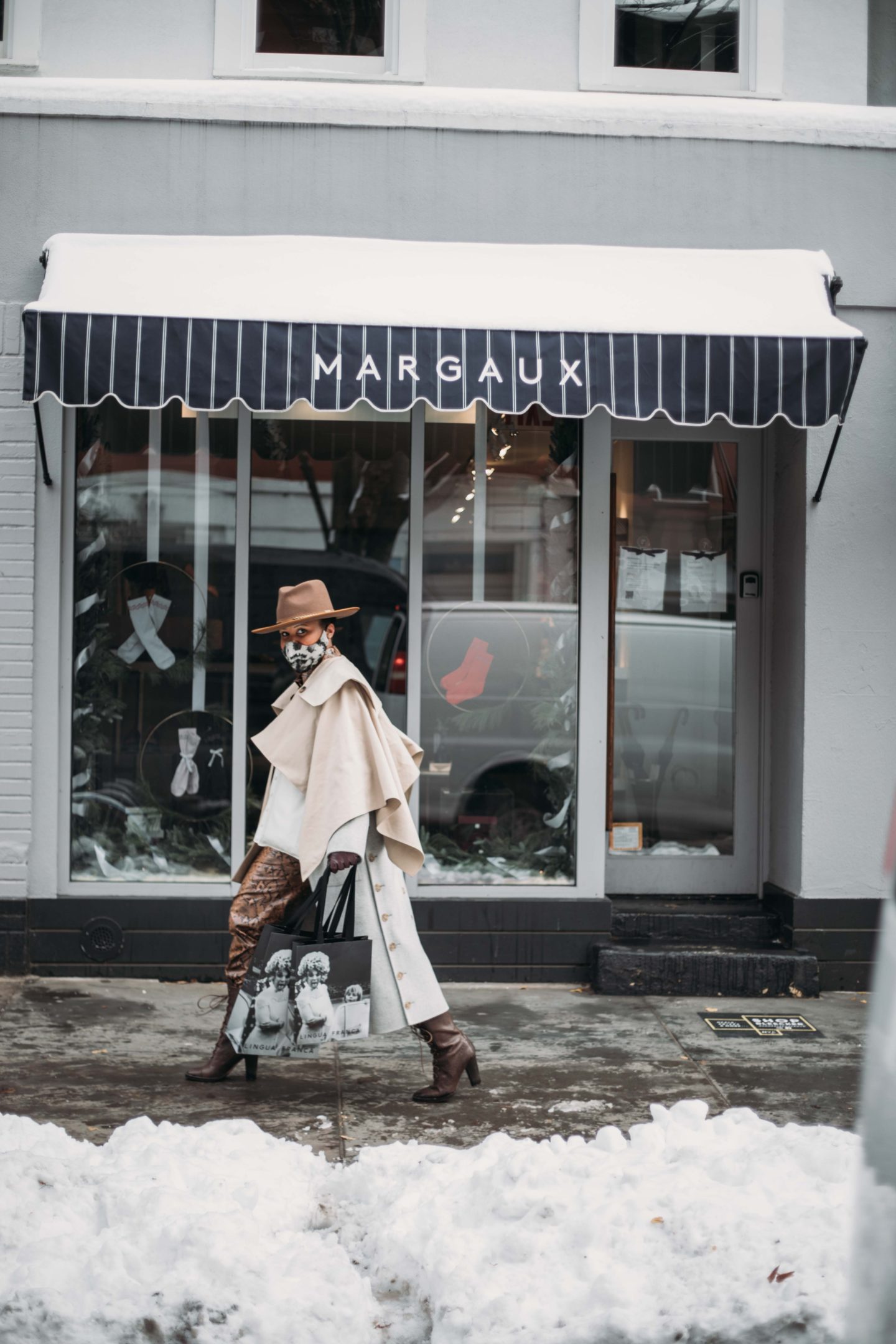 I love layering coats and I cannot lie! That's right, folks, this isn't one coat you're looking at. It's two!

I literally purchased the Trench Cape from The Frankie Shop for the layering capabilities. It was the perfect piece to add a little razzle dazzle to most looks.

AnyHUE, although 2020 was a complete shit show in most regards, I did level up in many ways. I doubled my annual income. I took a few domestic road trips that I would have probably never taken if not for the pandemic. I, also, spent a lot of time evaluating my relationships.

Here are a few ah-ha moments that I experienced this year:
Here's what I learned about myself
The most important relationship that you'll ever have in this world is that one that you have with yourself. How do you show up for yourself? How do you honor yourself and your beliefs? I realized that I wasn't honoring myself like I thought I was.
Speak up often and early. I usually give myself 24 hours now to respond to something that is off-putting to me. This timeframe allows me to really think through what exactly is triggering to me and if it's a valid frustration. Addressing things quickly doesn't allow the frustration to build-up inside and create animosity. I usually feel so much better after I've communicated my thoughts and gotten things off of my chest.
The more that you have hard conversations the better you get at having them. Practice makes perfect!
As much as you should let people know when they've done something wrong to you. You should, also, be just as adamant about letting people know when they've done something right to you. I'm working on being better about this.
Just because someone likes you does not mean that you have to like them back. I've found that I was getting into certain platonic and romantic relationships just because people liked me. They were nice enough. So, I went with it. I was mainly going with the flow instead of actively asking myself did I actually like the people that I was surrounding myself with. Moving forward, for any new relationships, I'm making sure that there's a mutual respect and attraction there.
Say no and mean it without offering an explanation or an alternate solution. I'm still working on this one.
Set boundaries unapologetically. People will deal.
Many of your current relationships will not survive at higher altitudes. And that's perfectly ok. You will meet different people to serve different purposes and for different seasons in your life. Once I accepted this, I started to feel much better about letting certain relationships ebb and flow in my life.
I no longer want to be in charge of everything all the time. It's not sustainable. I need to build teams and establish value added partnerships in my professional and personal life.
Here's what I learned about other people
How people feel about themselves has NOTHING TO DO WITH YOU. People will project their insecurities, baggage and traumas onto you. It is in your best interest to realize this quick and fast. Most times, it's not you, it's actually them.
People are inherently selfish in terms of relating to other people. People typically engage with other people based on how it makes THEM feel. Do they have a good time around you? Do you make them feel valued, listened to, cared for? Do you show up for them?
Some people think that proximity to popularity makes them cool. They think "if I surround myself with enough people who I deem to be successful and cool, it should make me acceptable in the eyes of other people." I think the young people call this "clout chasing".
Other people's happiness is not your responsibility and your happiness is not other people's responsibility.
Listen to what people do not what they say. I hear you and understand you but I only believe what you're actually doing.
A lot of people are more concerned with how their life looks and not how it actually feels. Most people are not happy with their lives. They just want it to LOOK like they're happy.
Although very rare, I realized that you can have relationships were jealousy, insecurity and envy do not exist. There's no hidden agenda and you can genuinely wish each other well.
What have you learned about yourself and your relationships this year?
Get The Look
Born To Roam 'Landi Rancher' Hat – Sold here
The Frankie Shop Trench Cape in Biscotti – Sold here
Rejina Pyo Simone Coat – Sold here
Slash Jacket c/o Steele – Sold here
Slash Pant c/o Steele – No Longer Available
Michael Kors Boots – No Longer Available
H&M Studio Collection Crossbody – No Longer Available
Cowhide Mask c/o Madame Sivad – Sold here
H&M Gloves – No Longer Available

Photography: Steve Djla