This post is brought to you in partnership with Rodan + Fields but all thoughts and opinions are my own.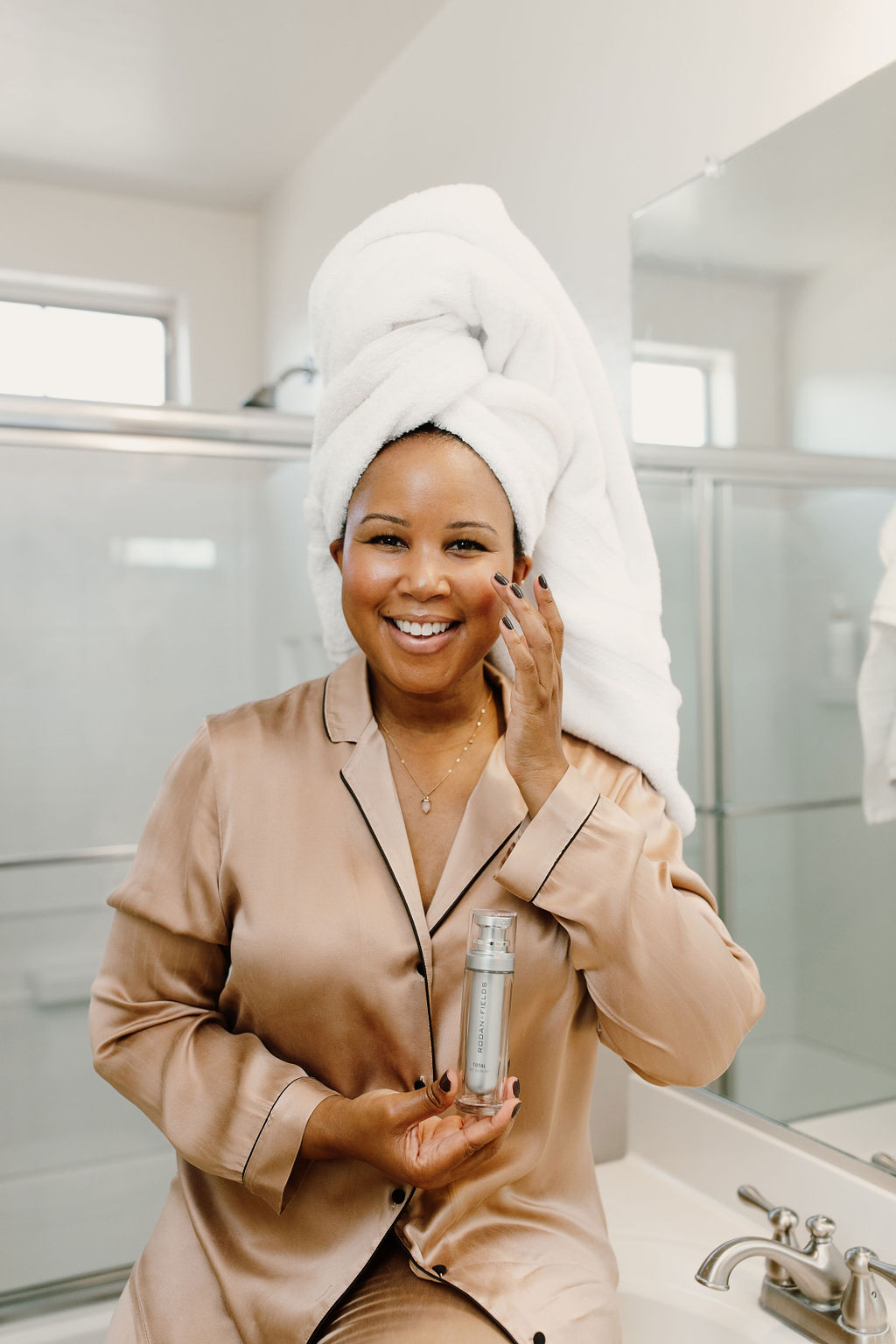 Hustle & Flow
Lately, I've been on my hustle and flow. I've been burning the candle at both ends morning and night getting deliverables in on time or as close to on time as possible. I'm in desperate need of a vacation but there's work to be done. As a creator, Fall and Holiday is one of our busiest seasons of the year. After January, things slow down a bit but it's full steam ahead until then.

Because I'm probably not drinking as much water as I should be or getting enough sleep, that can start to take a toll on my skin. In particular, I'm experiencing a dullness of which I'm not accustomed. I thrive on my skin glowing! Now, I do have plans to get back on a balanced schedule very soon. However, until then, I've been experimenting with the Total RF Serum to give my skin a refresh while I continue to get through this checklist.

If I can't get the recommended amount of sleep at night, at least I can hit my skincare routine!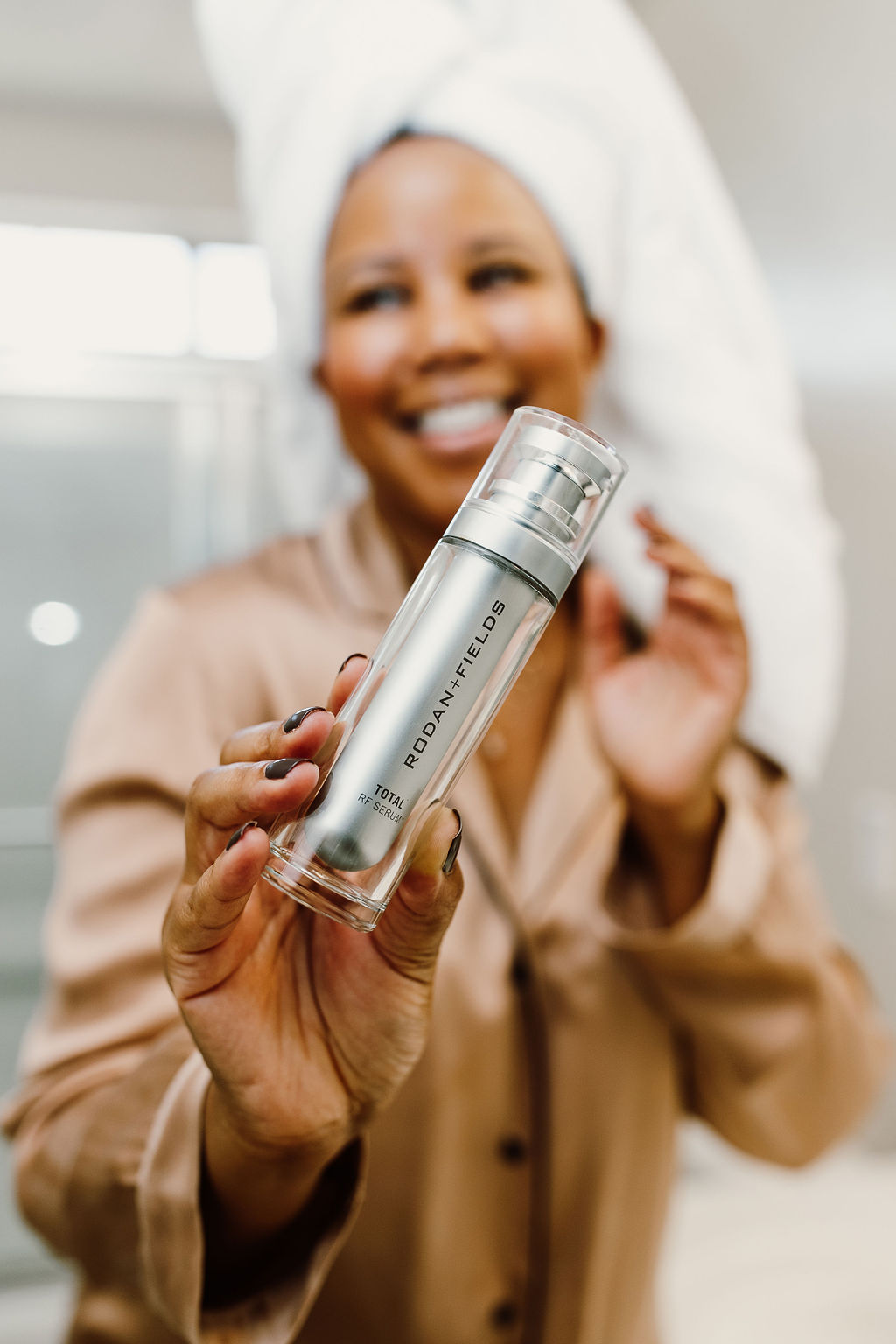 Introducing the Total RF Serum
Not familiar with the Total RF Serum?

All good, let me tell you about it. According to Rodan + Fields, it's "a high-potency, serum that fuels tired, aging skin with more energy, resulting in revitalized, stronger-looking skin. Total RF Serum tackles all visible signs of aging at every level: elasticity, firmness, plumpness, fine lines, skin texture, even skin tone, radiance, hydration, softer, more supple skin, reduced pores, and revitalized skin, to deliver younger-looking skin. ​Total RF Serum is a beautiful petal pink, pearlescent serum that quickly breaks into a refreshing and easily spreadable emulsion that is fast absorbing, lightweight, and moisturizing without feeling heavy."

The key ingredients include:
 RF TriEnergy Complex: Proprietary technology that contains:

Sandalwood: helps minimize the look of fine lines.
Indian Kino Tree Extract: helps skin look more even toned.
Omega 6 Essential Fatty Acids: specially modified to enhance penetration at the skin's surface, serves as building blocks to create a supple, plumper-looking complexion. 

Patented RF3 Antioxidant Complex: developed + patented in the US by Rodan + Fields' scientists. Fortifies skin to be more resilient and defend against environmental aggressors for even-looking skin. 
Ceramides: help fortify skin's barrier and retain moisture. The result is smoother, firmer-looking skin with less visible fine lines.
Calcium: Helps with visible firmness to make skin feel tighter and more resilient. 
As a sustainability effort and to save on approximately 25,000 pounds of packaging per year, Total RF Serum is Rodan + Field's 1st refillable product. This will help to limit waste and allow customers to save on cost when they reorder. One vile of serum should last approximately two months.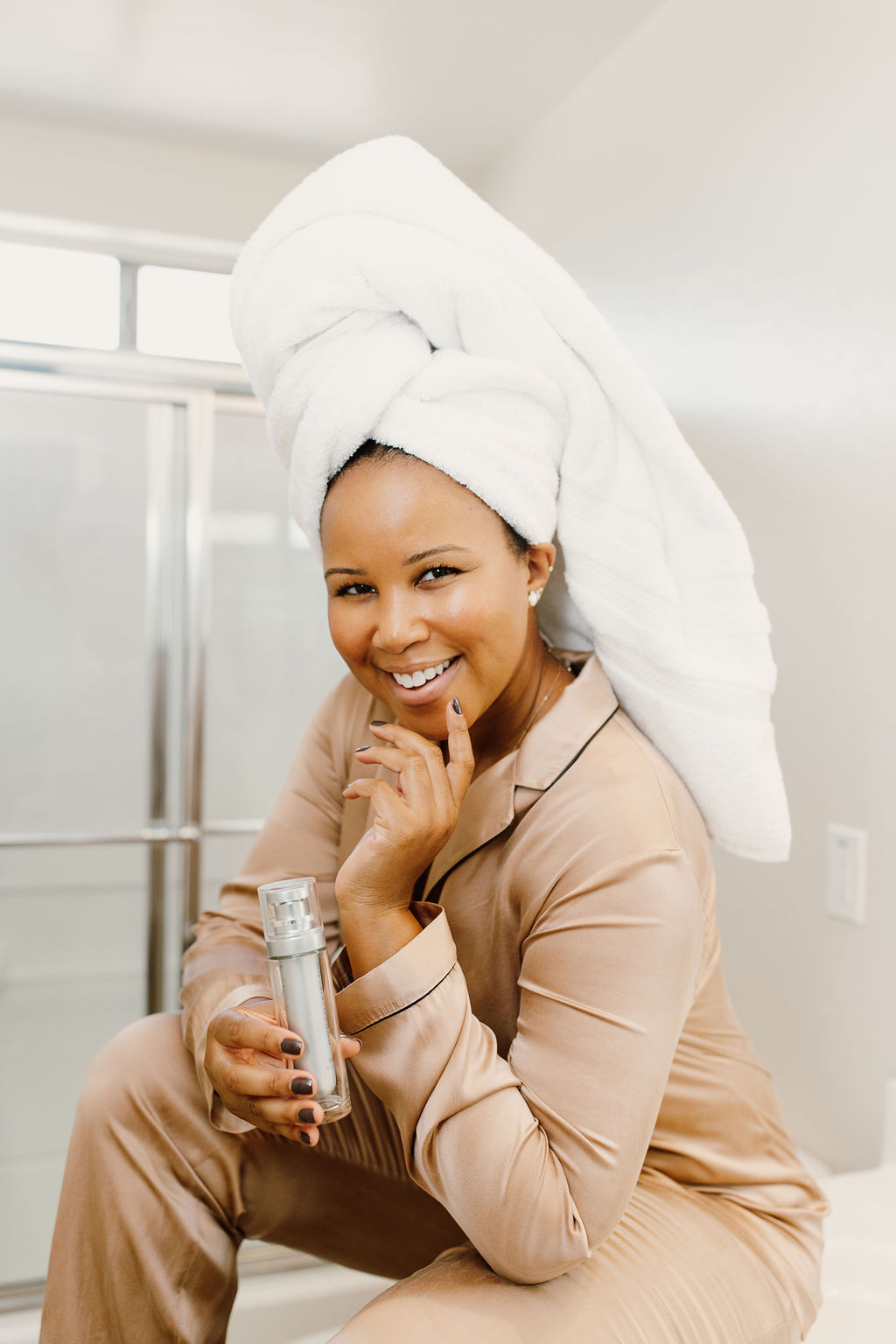 Here's How I Integrate The Total RF Serum Into My Current Skincare Routine
By now, you all should be familiar with my skincare routine. If not, here are the steps for a quick reference:
Cleansing Oil
Water Based Cleanser
Exfoliation
Toner
Essence
Serum
Face Mask
Eye Cream
Moisturizer
Sunscreen
Now, be clear, I don't hit all of the steps every day of the week. I'll alternate the days when I exfoliate and do the face mask and I don't wear sunscreen at night. I do, however, complete at least 7 steps every time that I execute my skincare routine especially my serum step.

As you an see, step #6 is my serum step. This is right where I would plug in the Total RF Serum. If your skincare routine isn't as involved, you basically want to insert your serum after your cleansing and toning steps but before your moisturizer. Get it? Got it. Good.

What you're going to notice on the first application of The Total RF Serum is how freaking good it smells. It's like a perfume for your face. If fragrance doesn't irritate your skin, it makes for a truly pleasant skincare experience.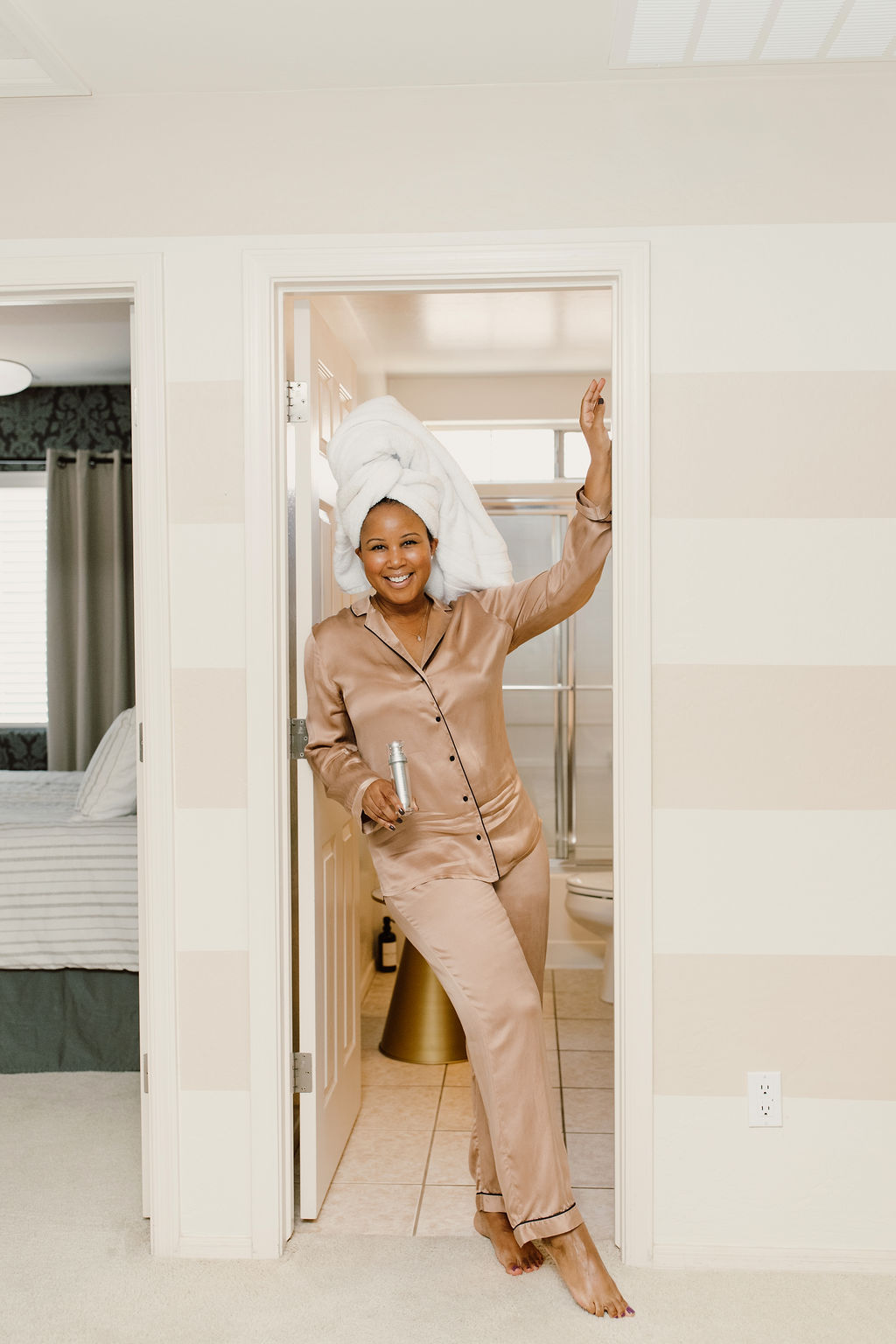 I Don't Look Like What I've Been Through!
It's really nice when your skincare routine can pick up where other parts of your life are leaving off. I've been using Total RF Serum for the last month and I can see a visible difference in my overall skin tone and clarity. I can tell that my skin will look plumper and firmer with continued use. It looks like I've been drinking my water and getting the recommended night's rest. We all know now that hasn't been the case. I can only imagine the results that I'll see when I'm back on a balanced schedule!

Just a friendly reminder that good skincare serums will deliver visible results with consistent use. I know we want things fast and now. Unfortunately, skincare does take time to show visible results. Rodan + Fields has a 60-day back guarantee on all products, including empties. So, if you're not seeing any results after two full months of consistent use, go ahead and exercise this guarantee!

Drop any questions about the Total RF Serum in the comments below.

Photography: Denisse Myrick