Exciting News! Read all the way until the end.


Short story.


My mother and I would go shopping EVERY Sunday after church. It was our ritual. Church, brunch and then shopping. We were notorious for shutting down a mall. When I was younger, I kind of hated the ritual and would pout as she spent what seemed like an eternity touching and examining every article of clothing in the store. That feeling soon changed. When I was old enough, I would throw her the peace sign, coordinate to see her when the mall closed and go off to shop in MY stores.


One store that we would visit more times than a little bit was Lord & Taylor. My mother is a dress fanatic. She believes in looking like a lady and you'll rarely see her in jeans. Leggings, yes. Jeans, absolutely not. Her aunt once told her that if she had the legs that my mother had (nice, big, juicy legs –thank you, genetics!), she would never cover them up and she doesn't.


So, these top dress picks from Lord & Taylor are dedicated to all the women out there who like looking like a lady and showing off a little leg.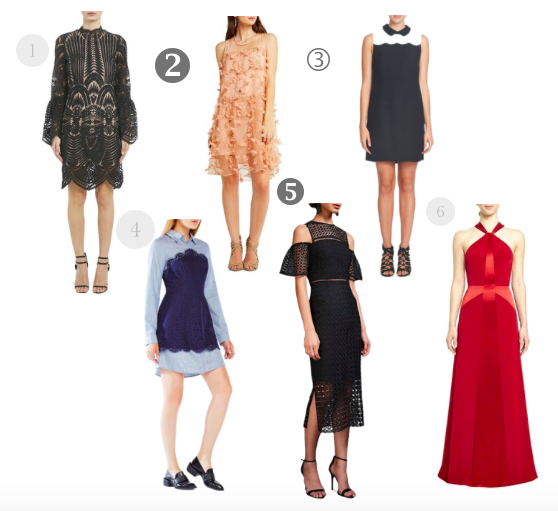 *
This post is brought to you in partnership with Lord & Taylor


(Click the links below for purchasing information)
This is kind of a full circle moment. Lord & Taylor has asked me to host the "Dress Address" event at the Freehold, NJ location on this Saturday, October 8, 2016 *Squeals!*. Come see some of these TWP Approved items and plenty others in person! There will be a Fall Fashion Presentation featuring styles from the November issue of Harper's Bazaar and I'll be there giving some on the spot styling tips! You do not want to miss this.


Date: Saturday, October 8, 2016
Location: Freehold Raceway Mall Lord & Taylor (3710 Highway 9 Freehold, NJ 07728)
Time: 11:00 AM – 1:00PM (The Fashion Presentation starts at 11:00AM!)