Get The Look
Nasty Gal 'Give It to Me Stripe' Bodysuit – Similar here
Nasty Gal 'Floral Support' Pants – Similar here and here
ASOS Small Cat Eye Fashion Glasses – Similar here
Round Straw Bag – Similar here and here
Hush Puppies Sandal – No Longer Available



Get The Look
Tiffany's Look

Gingham Spade Tie-Back Dress c/o Kate Spade – Sold here
Sylvia Grand Flora Large Dome Satchel c/o Kate Spade – Sold here
Zara Sunglasses – No Longer Available
Paloma Barcelo Wedge Sandals – No Longer Available

Mom's Look:

Grand Floral Poplin Midi Dress c/o Kate Spade – Sold here
Andi Canteen Bag c/o Kate Spade – Sold here
Susane Heels c/o Kate Spade – Sold here
Pearlette Drop Earrings c/o Kate Spade – Sold here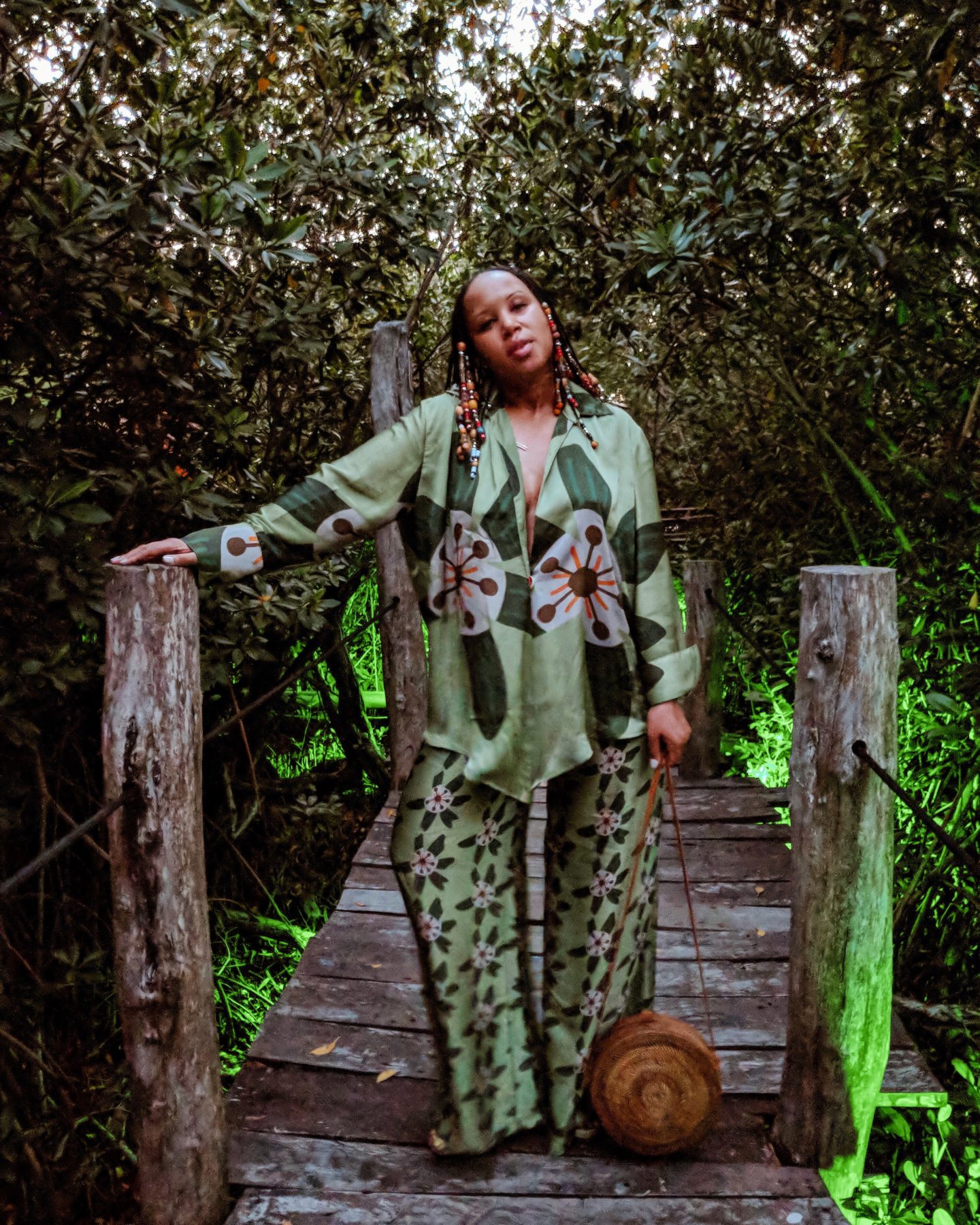 Get The Look
Fe Noel 'Scilla Fern' Top – Sold here
Fe Noel 'Scilla Fern' Pants – Sold here
Round Straw Bag – Similar here and here
Paloma Barcelo Wedge Sandals – No Longer Available


Get The Look
Sokhna Kimono c/o Diarrablu – Sold here
ASOS Small Cat Eye Fashion Glasses – Similar here
Round Straw Bag – Similar here and here
Hush Puppies Sandal – No Longer Available


If you've seen my Tulum itinerary in this post, you can see that I was only in Tulum for 2 full days, 1/2 day and then the last day was a travel day. So, I only wore four real looks and a travel look which I didn't capture but should have.
Four #TiffTips For Hot & Humid Tulum Style
Here are a couple of #TiffTips to keep in mind when you're traveling to hot and humid climates like Tulum:

1. Wear breathable materials!: You want to pack your swimsuit and natural fiber materials like cotton and linen. I'll be honest. The day that I wore silk set from Fe Noel, I was a whole and entire sweaty mess!

2. Bring insect repellent: Thank me later. The mosquitos were on full attack mode. After all, Tulum is in the middle of the jungle. If you're a person that typically attracts our blood sucking friends, you will 100% feel their wrath. Sorry not sorry.

3. Wear loose fitting clothes: I don't care what you think before you arrive to Tulum, you will NOT want anything close to your body except for water, margaritas and tacos. Dassit. The Diarrablu kaftan that I wore was one of my favorite pieces for this very reason.

4. Bring comfortable walking shoes: You can try to be cute in heels at the beach if you want. However, the Hush Puppy sandals that I wore during this trip allowed me to be present and take in what was happening around me without having to deal with panful soles.

Let me know if you have any other Tulum packing questions in the comment section below!