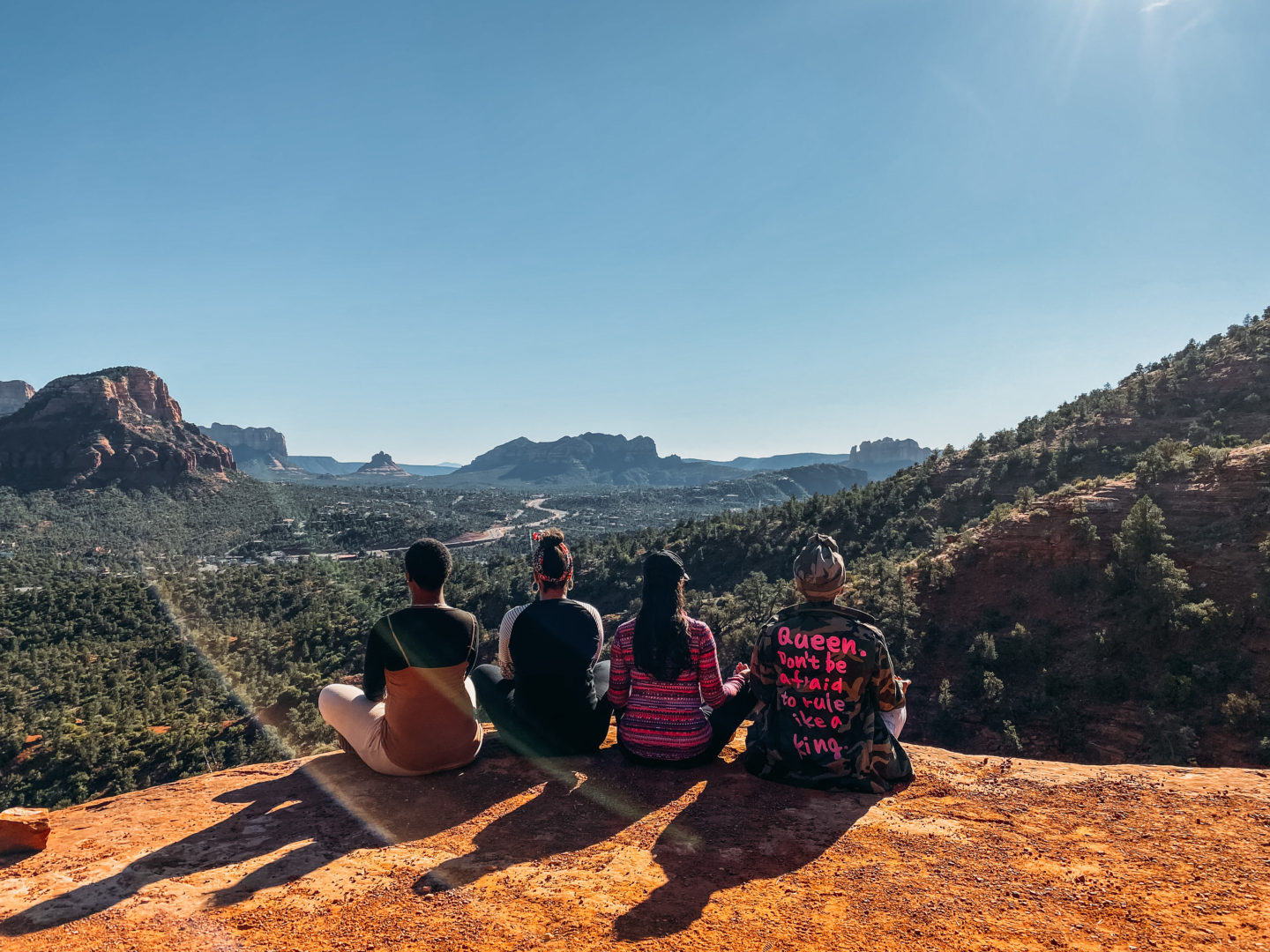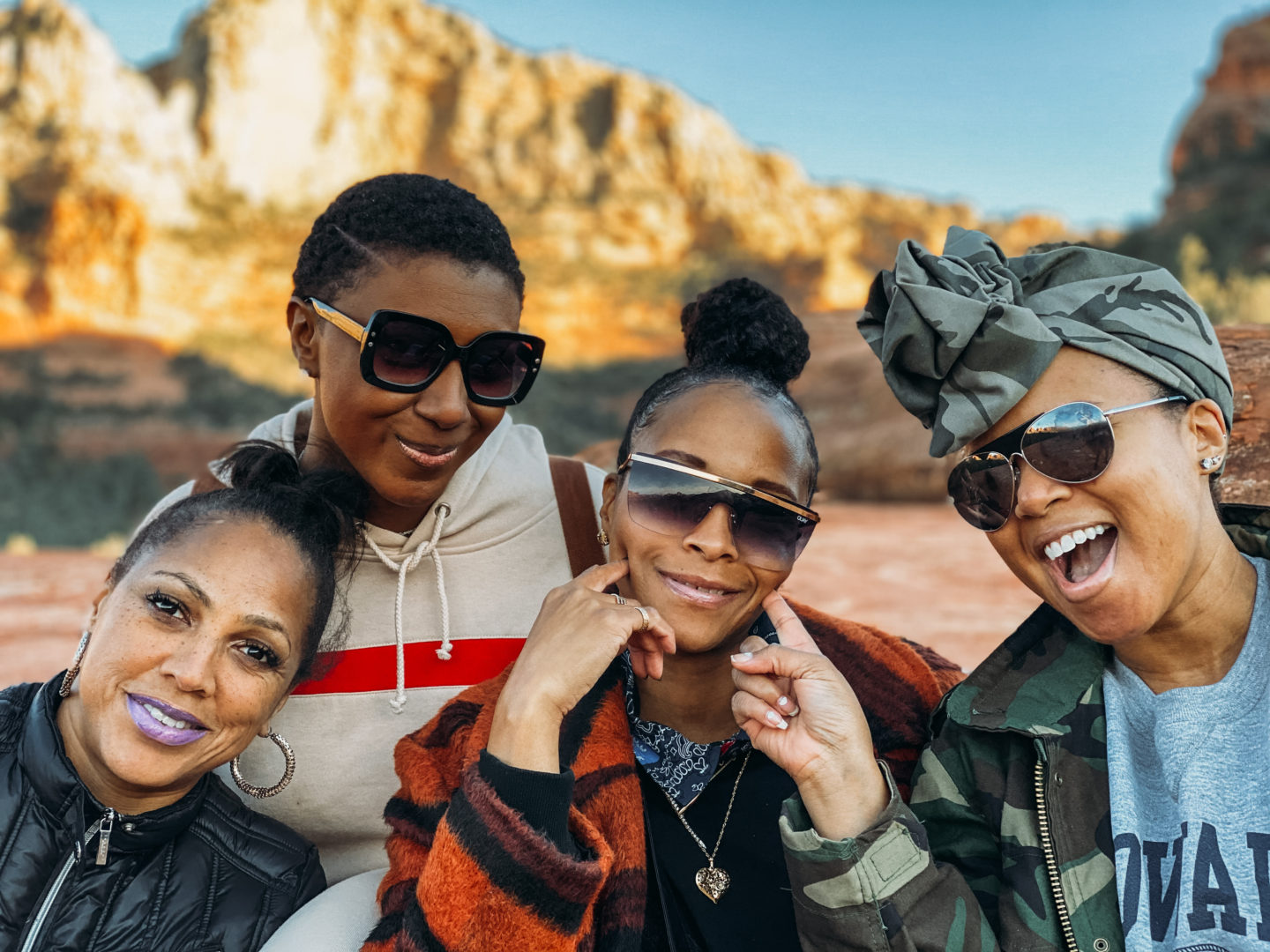 Every time we go to Sedona, we have a different experience. This time this trip was all about reconnecting with ourselves, getting centered and gearing up to have a mind blowing 2020. I'm thinking that we should make this our annual trip to get the New Year started off on the right track. Amiright?
All You Need Is 24 Hours in Sedona!
So, let's get into it! Our trip in totality was 2.5 days and 2 nights. We left Friday night at 7PM so that we could wake up in Sedona and get our Saturday started. Sunday, which I'll cover in another post, we spent trekking through Canyon X near Antelope Canyon and freezing our butts off at the Grand Canyon.

I will highlight that we had dinner Friday night at Mariposa Sedona. It was a was a whole party in our mouths. No one at the table was unsatisfied! This is a MUST visit.

Honestly, all you really need is 24-hours in Sedona. It seems to be a trend with me.
Our Sedona Home For The Weekend
If you're following me on Instagram, you've probably already seen this Sedona Home Tour on IGTV. As an Airbnb Super Host, I can say without a doubt that this place was too legit to quit! This was the first time that I've seen it where the listing photos didn't do the property justice. It was a brand new home, centrally located and enough space for 5 girls looking to relax, relate and release for the weekend.

If you're new to Airbnb, use my code here to save $55 on your first booking. To book our exact Sedona Home, visit Airbnb here. Tell them Tiffany M. Battle of The Werk! Place sent you!
24-Hour Sedona Itinerary
Saturday, January 18, 2020
8:00 AM – Breakfast at Che Ah Chi at The Enchantment Resort
We were running a little behind schedule. So, we had a quick breakfast at Che Ah Chi at the Enchantment Resort. This stunning resort sits on the Boynton Canyon Vortex and boosts beautiful views, great dining and accommodations. I definitely plan on coming back on another visit to take advantage of the space and the views.

10:00 AM – Crystal Magic
We originally scheduled the Coyote Canyon Pink Jeep Tour for this time slot. However, after getting the strong recommendation to take the Broken Arrow Tour from a woman in the bathroom, we promptly switched our tour. The only available slot that worked for us was 4PM.

So, we went to see about getting some crystals and readings. Crystal Magic is apparently the place to go for all things crystals, smudging, jewelry and guided meditations. I picked up a few crystals and smudge sticks.
11:00 AM – Amitabha Stupa & Peace Park
This was my first experience here and it was pretty magical. The Peace Park is a place for meditation and spiritual renewal.

The Amitabha Stupa is a structure in the middle of the park that serves as a beacon of blessings for all beings. It's a buddhist practice where you walk clockwise around the Stupa and say prayers for the world and people as a whole. The Stupa then broadcasts or amplifies those prayers.

We, also, had a life transforming run in with someone else's spiritual guide at The Medicine Wheel right before we got lost in the park for about 15 minutes. We experienced all ranges of emotions during this visit. This is a MUST do, for sure.
1:00 PM – Aumbase Sedona Yoga, Hike + Meditation
Guide: Chuck Tyler (Duration: 2 hours)

This yoga, hike and meditation at the Airport Mesa Vortex was one of the highlights of the entire trip. First of all, the weather was literally perfection. Our views during the yoga and meditation were otherworldly. We all felt very relaxed, calm and serene once it was all said and done.

I would 100% do this all over again! Yes, even the short 7-min hike where I felt like I was going to slide right on down the mountain.
4:00 PM – Pink Jeep Tour
Broken Arrow Tour (Duration: 2 hours)

Finally, we head back to the Pink Jeep Broken Arrow tour to embark on an unforgettable trip! The only way that I can explain a 4X4 Jeep experience on the red rocks of Sedona is that it's like a roller coaster without the restraints and tracks. We were just out there letting nature have it's way with us.

I laughed a good hearty laugh for the entire 2-hours. This tour is not for the faint of heart but 100% worth going!
6:30 PM Dinner – Elote Cafe

Finally, it's time for one of our favorite restaurants in Sedona, Elote Cafe! We come here on EVERY visit. There's always at least a 1.5 hour wait or more. Just go and be prepared to wait. Set up shop in the line, grab a few margaritas from the bar and get your life with the complimentary delicious ass popcorn. Seriously, it's so goodt!

And that, ladies and gentlemen, is how we spent 24-hours in Sedona! By the end of the day, we felt like we had been in Sedona for an entire week! We got it all the way in, baby.

Remember Google is your friend and I've provided a few links to get you more information about each stop on our visit. After doing a little research on your own first, feel free to drop your remaining questions below.